The Indian Experience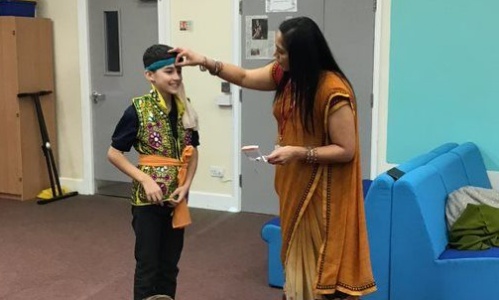 Last Friday, we were joined by Sunita from the Indian Experience (Home (theindianexperience.org)), who delivered an assembly and workshops to pupils in Years 1, 5 and 6.
As well as learning about India, Sunita shared her experience as a Hindu with the children. She discussed prayer, traditional dress, Bollywood dance, Rangoli art and shared Hindu stories, traditions and festivals with the children.
We welcome Sunita into our school on an annual basis and every year the children have a fantastic day experiencing the traditions and customs of India.
For the children in Year 5, Sunita's workshops brought their learning in RE, Geography and Art to life as they are currently learning about India, Hinduism and Rangoli patterns.
For more pictures from the day, please explore the RE Gallery