T T Rock Stars England Rocks Results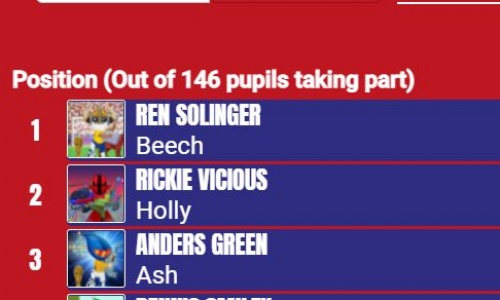 The TT Rock Stars England Rocks Tournament has now come to an end after three exciting days of times table practice and speed tests. Well done and thank you to the 146 pupils who took part.
School Results

Highest Scoring Pupils
1st - Luca P
2nd - Jake M
3rd - Roshan E

Highest Scoring Classes
1st - Beech
2nd - Holly
3rd - Ash

We are delighted to see that engagement with TT Rock Stars has increased during this tournament. We really hope this continues as out next aim to move up the Nearby Schools Leader Board. This leader board compares the mean studio speed score of local schools. We are currently sitting in 21st place (out of 30) but we would love to move into the top 20 and eventually hit the top 10.

Mrs Cook will be sorting certificates which we will share in next Tuesday's whole school assembly.