GCA Parkrun Take over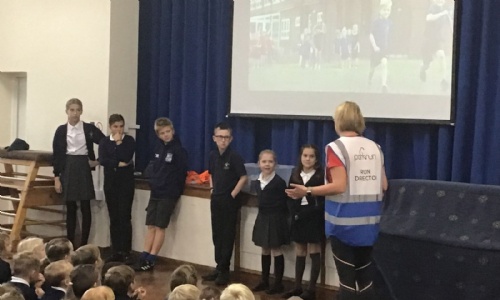 One Sunday 9th October (this Sunday) we will be taking over Junior Parkrun at Jubilee Park, Kings Ripton.
Parkrun's mission statement is: To create a healthier and happier planet.
Here at GCA, we couldn't agree more!
This morning, Mrs Harman talked to the children in the assembly about a weekly event called, Junior Parkrun, and they were VERY excited. A number of children who regularly attend the event took part in a mini run around our hall to show the other children what they could expect.
Address: Jubilee Park, Kings Ripton Road
GCA staff members will be taking over the Parkrun event – there will be teachers at every marshal point on route to cheer on the children running a 2k route twice round the football field.
We would love to see lots of children from GCA join in this weekend.
Its free and easy to attend with no running needed from the adults (unless you want too of course!)
register | parkrun UK link to register your child that will give them a barcode. They will need this at the end of the run so that they get a time.
Here is a link to Jubilee Juniors parkrun, where you will find answers to any questions you may have. home | Jubilee junior parkrun | Jubilee junior parkrun
Afterwards, in the club house, there are hot drinks and bacon butties available to buy.
We look forward to seeing you there!