Godmanchester Primary School  Comes 2nd In National Awards
Godmanchester Primary School Comes 2nd In National Awards
We are delighted and incredibly proud to announce that Godmanchester Primary School came runner-up in the Modeshift Stars National School Travel Awards.
Mrs Millard, Mr Coxhead (Chair of Local Governing Body) and 3 student representatives from the school went to London to the Houses of Parliament to take place in the awards ceremony for the National event.
Modeshift STARS is the national schools awards scheme that has been established to recognise schools that have demonstrated excellence in supporting cycling, walking and other forms of sustainable travel.
The scheme encourages schools across the country to join in a major effort to increase levels of sustainable and active travel in order to improve the health and well-being of children and young people.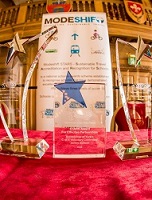 In October 2015 Godmanchester Primary won our regional award for our outstanding achievements in increasing levels of sustainable and active travel.
Mrs Millard and the staff worked particularly hard to promote cycling to school which resulted in a 50% increase in numbers cycling from 20% to 31%.
The award in London was for the National School of the Year, and Godmanchester came runners up!
As a school we are really proud of this achievement, and would like to thank Mrs Millard and the children for all their hard work.
We will be uploading some photos in the very near future from their adventure in London.